ซ็อกเก็ต ลวดสลิง Crosby National Steel Swaging Sleeves S-505
รายละเอียด และ ขนาด
For Flemish eye wire rope splicing.
Designed for low temperature toughness.
Resists cracking when swaged (equals or exceeds stainless steel sleeves).
Special processed low carbon steel.
"COLD TUFF"® for better swageability.
Sizes 6-7 through 37-38mm satisfy the type testing requirements for Flemish ferrule secured systems per EN 13411-3:2004 except those additional requirements defined
for crane hoist rope.
Can be stamped for identification after swaging without concern for fractures when following these directions.

Use round corner stamps to a maximum depth of 1.38mm.
The area for stamping should be on the side of the sleeve in
the plane of the sling eye, and no less than 7mm from either
end of the sleeve.

Standard Steel Sleeve terminations have efficiency ratings as
follows based on the catalog strength of wire rope.
Do not use on wire rope size other than size shown.
Reference: Crosby S-505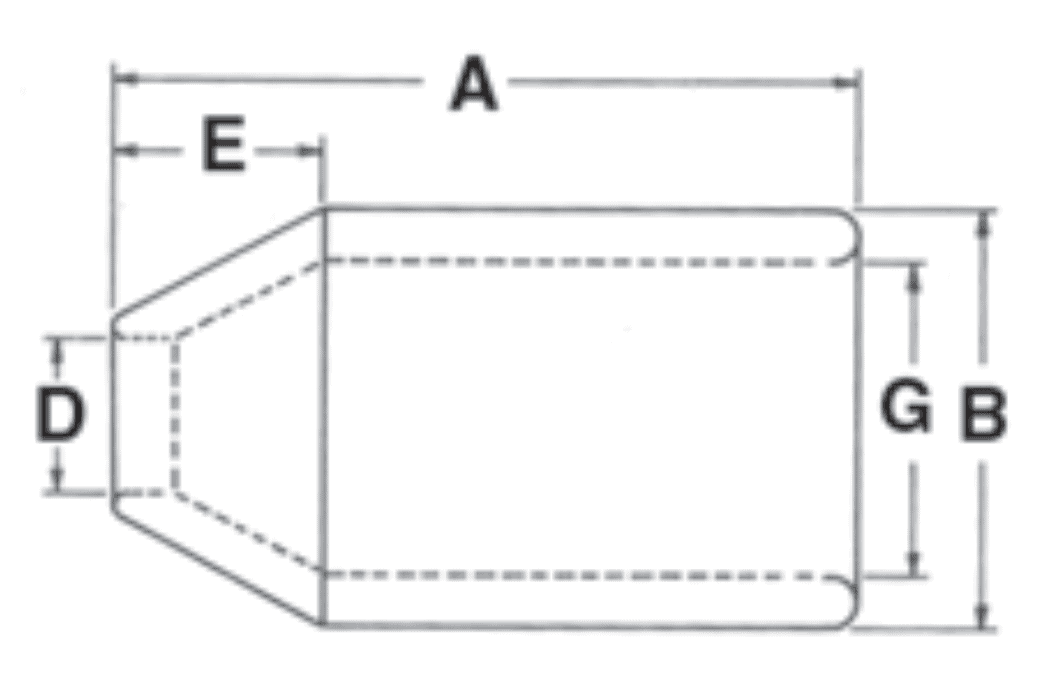 S-505 Standard Steel Sleeve Specifications
S-505
Stock No
Wire Rope
Size
Weight per 100
Pkg. Qty.
Before Swage Dimensions
After Swage Dimensions
A
B
D
E
G
Standard Die
QUIC-PASS Die
mm
inch
kg
mm
mm
mm
mm
mm
mm
mm
1041063
6-7
1/4
3.6
250
25.4
16.8
7.88
7.12
11.9
14.5
14.4
1041090
8
5/16
4.08
200
38.1
23.1
11.2
11.2
15.8
19.1
19.5
1041107
9-10
3/8
5.44
100
38.1
23.1
11.9
9.91
16.8
19.1
19.5
1041125
11
7/16
13.6
50
51
31
14
16.5
21.6
25.7
25.8
1041143
13
1/2
13.2
50
51
31
16
14.2
23.1
25.7
25.8
1041161
14
9/16
30.8
25
70
37.3
17.5
16
26.2
31.5
31.7
1041189
16
5/8
25.9
25
70
37.3
19.1
16
27.7
31.5
31.7
1041205
18-19
3/4
40
20
81
43.7
23.1
21.3
32.5
37.1
37.5
1041223
22
7/8
62
10
90.5
51.5
26.2
25.4
38.9
42.7
44.1
1041241
25-26
1
89
10
102
58
29.5
28.6
43.7
49
49.7
1041269
28-29
1 1/8
118
Bulk
122
63.5
32.5
31.8
49.3
54.1
55.1
1041287
31-32
1 1/4
154
Bulk
132
70.5
36.5
35.8
55
58.9
61.1
1041303
34-35
1 3/8
195
Bulk
148
76
39.7
39.7
60.5
64
66.3
1041321
37-38
1 1/2
226
Bulk
159
82.5
42.9
42.9
67
69
72
1041349
44-45
1 3/4
367
Bulk
184
97.5
49.2
50
79.5
78.7
-
1041367
50-52
2
510
Bulk
216
111
57
57
92
90.4
-
1041385
56-57
2 1/4
862
Bulk
243
128
63.5
64.5
102
105
-
1041401
62-64
2 1/2
1043
Bulk
267
140
70
71.5
114
114
-
1041429
68-70
2 3/4
1270
Bulk
292
146
76
78.5
121
119
-
1041447
75-76
3
1334
Bulk
305
152
82.5
86
127
126
-
1041483
87-89
3 1/2
2105
Bulk
356
178
98.5
100
148
147
-
1041492
93-95
3 3/4
2495
Bulk
381
191
103
108
160
158
-
1041508
100-105
4
3130
Bulk
406
206
111
114
173
170
-
1041526
112-114
4 1/2
4536
Bulk
457
232
124
129
195
189
-